UPCOMING EVENTS 2020
These are the events currently planned for 2020, please check back regularly on the latest updates on what is happening.
Ladies Ministry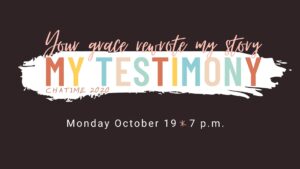 My Testimony – Your grace rewrote my story
There are many untold stories in our midst and we would like to take time in this season to share those and celebrate our testimonies with one another. The larger group will be divided into smaller tables of 6 and we will be sharing tea and some delicious individually wrapped snacks.
Youth
November 13 2020
December 4 2020
December 18 2020
Men's Ministry